"If I Were A Book" wins 2007 Lyric Writer Awards
Steve Krause's unique blend of heartfelt, bittersweet folk rock has begun to garner international attention! Hard at work on material for his second CD (scheduled for release in November 2009), one of his new and as yet unreleased songs – the subtle and introspective "If I Were A Book" – has already won WeAreListening's 2007 Lyric Writer Awards, a respected international competition.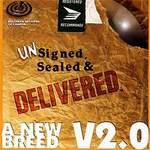 Unsigned, Sealed & Delivered: A New Breed, v2.0
"Run to Daylight" was given the opening track on this fantastic 2007 compilation. Go take a listen to "I Miss The Radio", my (second) favorite song on this album.

"Snoopy" and "Treading Water" Win Honor Awards for the 2005 Great American Song Contest
Two of my songs from my debut Album "Very Fine Line" won Honor Awards from the Great American Song Contest in 2005. Take a listen on the "Radio" page, and download the songs on iTunes!